Introduction to GPS data logging
Posted:
Wed Apr 24, 2013 2:12 pm
How do I record my dogs speed with a GPS data logger?
1) Buy a GPS data logger
2) Attach GPS data logger to your fast dog.
3) Ask your fast dog to run..... very fast.
4) Connect your GPS data logger to your computer and view the recorded data.
5) Register you fast dogs very fast speed on the World's Fastest Dogs website
We've all used or heard of GPS for cars and just about every smart phone out there has GPS capabilty. GPS is just short for "Global Positioning System" and it pretty well does what the name says, that is, it registers where on earth you're currently located. Most car GPS's and probably all smartphones will take a positional reading once a second (1Hz), although some GPS's do it 5 or 10 times a second (5Hz and 10Hz). We''ll refer to this number as the "resolution" ie 1Hz = low resolution, 5 and 10Hz = high resolution.
If you attach a GPS data logger to your dog it can record a whole bunch of information such as it's top speed (instantaneous speed), average speed, acceleration, location, distance travelled and more. This data can be stored (logged) in the GPS memory and downloaded and viewed on a computer. Some GPS data loggers have a small screen so you can see the results straight away. Not all GPS's have data logging capability though so it's important to get one that does.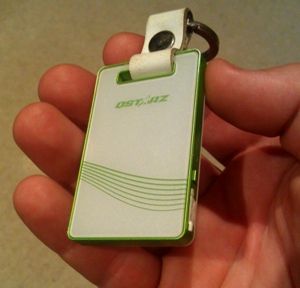 An example of a GPS data logger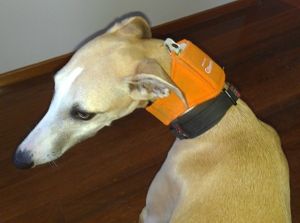 Here's one we prepared earlier: Mach, the Whippet sporting a Qstarz GPS collar